Guelph Pride is now looking for community members to create our 2023 Pride Festival planning committee!
If you or someone you know is interested in creating events, fundraising, gathering volunteers, or sharing your vision for a powerful pride festival, please fill out the form
here
or
e-mail our chair
with any questions about joining

A Statement from Guelph Pride:

Guelph Pride acknowledges that our committee and our bi-annual events reside on the ancestral territory of the Mississaugas of the Credit First Nation, Anishinaabewaki, Haudenosaunee, and Attiwonderonk peoples. We live on stolen land, benefit from the broken treaties, and still maintain privilege over the resources of the land. The colonial forces that have stolen this land continue to negatively impact BIPOC and LGBTQ2IA+ individuals in the form of municipal, provincial, and federal police. We stand in solidarity with Land Back and Black Lives Matter and their calls to defund the police.
---
Spring Pride Update!
Our Spring Pride Committee is working hard to finish up every last detail for our events and our Spring Pride volunteers have been trained and are ready to help us all have an amazing festival. Please check out the listed events under "Spring Pride" and mind the mess, we're updating that page several times a day as we gather all the details need to know. If you don't see any event details under the event you're interest in, try clicking on the banner with event name and a website with more information should open.
---
New Fundraising and Sponsorship Oppertunities for Spring 2022!
If you would like to help support Guelph Pride and all that we do and are, please consider helping us with a fundraiser of your own. E-mail chair@guelphpride.com for collaboration opportunities. Also, check out our sponsorship section for more information on sponsorship levels.
---
Let us know your thoughts!
​share your opinions about pride - 2022 Pride Survey coming soon!
"BIG GAY HIKE one of
​the highlights of Winter Pride"
The free event welcomes people of all ages to a 3.5km loop around the Starkey Hill Conservation Area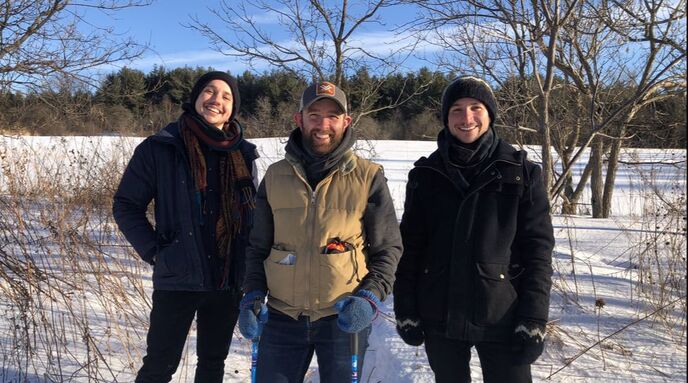 "In the past, Nature In Transition has held events like Earth Day cleanups, Game Day at a park and hikes at hiking trails accessible by public transport. This spring, Smith said the Nature in Transition program will be able to expand on what ARCH already offers, by providing more social support and peer counselling events and programs that bring 2SLGBTQIA+ people out onto the land to foster new kinds of healing in community."
February 5 is an important anniversary in local LGBTQ history - it has been exactly 40 years since the Toronto Bathhouse Riots.
​
"On 5 February 1981, patrons of four bathhouses in downtown Toronto (The Barracks, The Club, Richmond Street Health Emporium, and Roman II Health and Recreation Spa) were surprised by 200 police officers in a series of coordinated raids, called "Operation Soap." Law enforcement officials claimed the raids resulted from six months of undercover work into alleged sex work and other "indecent acts" at each establishment. Bathhouse patrons were subjected to excessive behaviour by police, including verbal taunts about their sexuality. When the night was over, 286 men were charged for being found in a common bawdy house (a brothel), while 20 were charged for operating a bawdy house. It was, up to that time, the largest single arrest in Toronto's history. Most of those arrested were found innocent of the charges. The raids marked a turning point for Toronto's gay community, as the protests that followed indicated they would no longer endure derogatory treatment from the police, media and the public."
https://www.thecanadianencyclopedia.ca/.../toronto...
https://www.youtube.com/watch?v=Z6s9qvctHI0
Lgbtq2ia+ community awards
winners announced annually at our Guelph pride art show & awards gala
There are so many incredible people doing really great work for our communities here in Guelph - let's do our part to recognize and thank them for all they do!
​
​
Note: Individuals who are current members of the pride committee are ineligible to receive any of our Community Awards, however those who have been nominated have been included to recognize their contributions to LGBTQ2IA+ communities of Guelph.
Honours an individual who is involved in advocacy, activism, and direction action to further the push for queer and trans liberation in Guelph and beyond. The recipient inspires hope and sparks change with compassion and respect and works from an anti-oppressive, feminist framework. The individual should be currently active within the Guelph community and has at least one year of experience in activism work in our community.
Honours an individual whose has established themselves as a well respected leader in the community and resource to others, who works diligently to organize but also to inspire others to create and foster positive change for LGBT2QI+ individuals in Guelph and beyond. The individual should be currently active within the Guelph community and has at least one year of experience in activism work in our community.
Honours an individual who has significantly contributed to the LGBT2QI+ culture (including arts/music/performance, etc) of Guelph through events, programming, exhibitions, or through other kinds of artistic contributions. This individual's work should work to uplift the voices and experiences of LGBT2QI+ individuals and work to create more positive awareness and reflections of LGBT2QI+ life at large. The individual should be currently active within the Guelph community and have at least one year of experience within the arts and culture scene of Guelph.
Honours an organization (and can recognize a specific individual from an organization) with which Guelph Pride, Out on the Shelf, or the LGBT2QI+ community at large has developed an exemplary working partnership with. The organization/individual shares and lives the value of Guelph Pride and Out on the Shelf in the work they do and bring that energy to our partner projects and our wider community. The organization/individual is actively working towards fostering welcoming spaces and acceptance for LGBT2QI+ people in Guelph and beyond and sets the precedent by going above and beyond. The organization exemplifies collaboration, co-creation, provides inspiration and aspires to reduce transphobia, homophobia, and other intersections of discrimination that impact LGBT2QI+ people while working from an anti-oppressive, inclusive approach that focuses on compassion, advocacy, and human rights for LGBT2QI+ people everywhere.
Honours an individual under the age of 21 who has demonstrated dedication and excellence in their contributions to LGBT2QI+ life and culture in Guelph. The nominee has contributed to creating programming, spaces, or improving accessibility of LGBT2QI+ spaces for LGBT2QI+ and questioning youth in the community, as well as working to uplift the voices of queer and trans youth in the city. The individual should be currently active within the Guelph community and must be under the age of 21 at the time of nomination.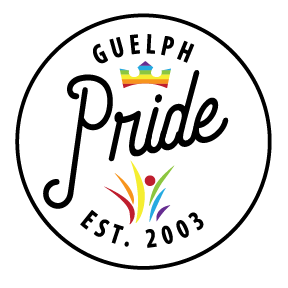 ---

our love keeps growing

After celebrating our 15th anniversary in 2018, the 

Guelph Pride Planning Committee is starting to recruit for the 2020 festival season - and we want to make it our biggest, best, and most diverse pride Guelph has ever seen! If you are looking to get involved you can email

volunteer@guelphpride.com

or reach out to us on

Facebook

,

Instagram

, or

Twitter

! We're looking forward to celebrating our Pride!

contact us

---

Please Donate Today

Without your support we can't do everything we do! Please note the direction of your gift to Guelph Pride through the Out on the Shelf donation page. Much love!


---

---
CHECK OUT OUR 2018 GUELPH PRIDE REPORT